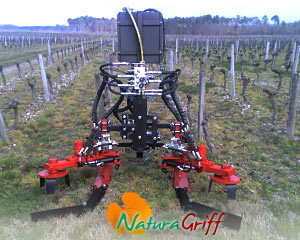 The NaturaGriff-tools for the vinegrowing
For the work in the vineyard we propose several possibilities of tool assemblies which will adapt to your agricultural equipment.
You have the possibility of working oneside (with one tool) or both sides simultaneously in only one passage (with two tools) :
1 tool positioned on the right or on the left, assembled in front, between the wheels or behind the tractor. A lifting or a tilting device is necessary for this configuration,
2 tools fixed on a pendulum chassis absorbing the asperities of the soil which are positioned in front or behind the tractor on the lifting device. It is possible to add tilting and/or lifting devices for an edger (back or front), a rotary harrow (back) or a claw (back),
2 tools between the wheels of the tractor (for a minimal width of vines of 2.25m, according to the tractor) with a lifting device between the wheels (fixed with/without a power station according to the tractor),
2 or 4 tools fixed on the frame of a straddle.
Our solution of maintenance under the row: the brush of mechanical weeding Naturagriff
With the aim of allowing you a simplified, fast and effective maintenance under the row, we propose you brushes for the mechanical weeding. This tool, by its flexibility, adapts itself to all the types of ground, any configuration of vine, and thus assures you a big versatility. Associated with an ease of handling and use, the wire brush will reassure you during your passages and will make for you save time.
Our working methodology consists in preparing grounds before winter then in using brushes in maintenance under the row early in the season. This method will allow you to work on a speed of 5kph progress, thus to save of fuel and of time. The absence of risk of breakage allows you a more reassuring and less binding work.
The creation of this loose ground on surface by the passage of the brushes of mechanical weeding NaturaGriff allows a big diversity of use and numerous applications as its use in hillsides sensitive to the soil erosions, the plough as winter nears its end, the maintenance of the edges of walls, the delivery for level of grounds, etc...
The brushes of mechanical weeding NaturaGriff can be coupled either been thought of as a supplement to other tools as the work of the ground, the mechanical weeding or the edger.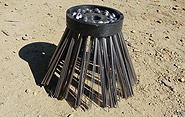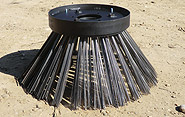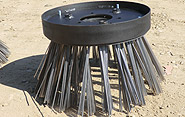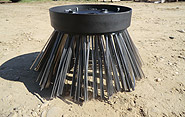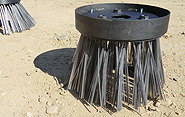 There exist various NaturaGriff-tools for the soil preparation work, the mechanical weeding or the cutting of edges.
To discover them :

Personalized configurations can be studied on request (assembly of tools on crushers, on the arm of a flail mower...) :
do not hesitate to contact NaturaGriff for a personalized study.
Our material in guaranteed 2 years parts and hands of work.
This guarantee extends until 5 years for the hydraulics parts under conditions of maintenance*.
All our machines are manufactured with standard parts eassily available in trade.
*Except seals - check suppliers.